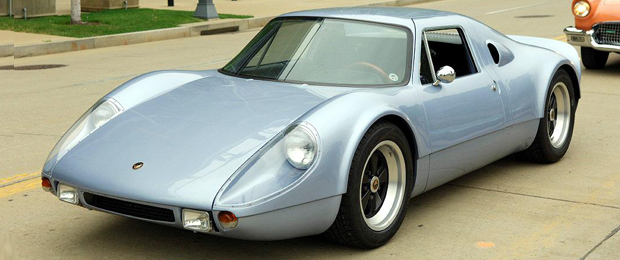 If you are one of the lucky 100 or fewer who own an original Porsche 904, there are only four words you need to hear: Hang On To It. As Porsche's one and only dual/purpose vehicle, the 904 was introduced and sold with one purpose in mind; homologation. This was the process where an auto manufacturer had to make a minimum production run of 100 "street" vehicles before the manufacturer could race them.
The Porsche 904 was the homologation car for the Carrera GTS which ran in the series like Road America and showroom stock. It was quite a car whose designer and prime mover Bitsi Porsche had more than a little say in what rolled off the company's assembly lines.
The sleek 904 was the result. It had quite a lineage, but it was something that no one at Porsche had ever delivered before. This was the first Porsche to use an all-fiberglass paneled body. Each panel was hard-laid on the monocoque tubular subframe. Each panel was also bonded to the frame.
The 904 features items no one at Porsche had though possible, at least at that time. For example, it used a vertically mounted, six-cylinder mid-engine that combined the five-speed manual transaxle and which meant the the vehicle was an absolutely neutral handler through turns and corners. Indeed, the original 904 used an 2-liter transversely and vertically mounted six that cranked out 180 horsepower with only 148 pounds feet of torque.
For a 1,500-pound vehicle that was more than enough power to see the vehicle literally fly down the road, and, to be frank, it was the best that Porsche could do with an air-cooled six in the early 1960s when materials technology wasn't exactly that it is today. Still, the bullet-shaped 904, whose shape seemed to flow organically back through a very low roofline and center of gravity was a car to beat on the street. On the track, the Carrera GTS was legendary.
Which brings us around to the replicas that are available today. Frankly, most of them are based on the Toyota MR-2 frame which, while it is a great chassis, isn't a Porsche. There are several reasons why the MR-2 makes a good choice as the replica chassis that include:
•    There are many of them as they were manufactured from about 1990 to 2007 in several generations
•    They were mid-engined designs so you don't have to worry about the drive linkages, transaxles and such
•    They are so widely known that is more than enough information available for anyone with a reasonable level of mechanical skill should be able to tackle the project, making sure that he has good backup available, that is an experienced mechanic or friend with good mechanical and construction skill
•    They are reasonably inexpensive as you can find them at any junkyard or parts yard for anywhere from $2,000 to $6,000, depending on condition. A mint condition MR-2 chassis can cost as much as $7,000, if it is free of rust or corrosion
With that said, it's just the quality of the replica kit that makes the 904. For example, if the fiberglass panels are up to spec for the kit, but not up to spec for a good implementation of the 904 then you will likely have a Toyota MR-2 with a bunch of weirdly hung and widely spaced body panels that tend to whistle in the wind. Further, since you've taken away most of the MR-2's stability and body stiffening by removing the standard body panels, what you actually end up with is a reasonable-looking 904 kit that, depending on your skill, may or may not have lined up panels and which like likely creak and moan through turns and corners because there's no real stiffening in the chassis, other than that which Toyota built in when it made the MR-2.
Further, you have to remember that when you build a kit like this you also have to install wheel spacers and bumper spacers to ensure the existing wheel and bumper assemblies can be used.
Unless you are certain of your mechanical ability – as in 100 percent – then it's probably best to have the sleek 904 replica built by a professional. That will add $15,000 to $20,000 or more to the price of the 904 replica. Of course, building the replica means you will have a vehicle that looks like a 904 sitting in your garage, which is better than not having one.
If you happen to have a million or two to spare and find a willing buyer online or at a concours, you might be able to purchase an original copy (one of the 100), but, you would have to count yourself very lucky to have this occur. Even a poorly maintained original will still cost you nearly $1 million now. Imagine how times have changed with a $12,000 vehicle (a fortune in 1963 and roughly $100,000 now) having a cost that's in the seven-figure range, but that's just it, if you find a real 904, you will be very lucky, especially if you find someone who is willing to part with theirs.
For the most part, though, the MR-2 is still the base vehicle of most replicas, however, there is one builder out there, Chuck Beck, who is willing to go the extra 100 or 200 yards to make sure that if you spend the money for a Beck 904, you are getting a vehicle that is really a true homage to the original as it is built, not on an MR-2 frame, but on a duplicate of the 904 frame itself and all of the fiberglass panels are installed in the same way as the original.
Beck has made some improvements to the original model, such as increasing the horsepower output of the transversely mounted air-cooled (yes, it's still air-cooled, as was the original) by nearly 60, and increasing the torque so there's more low-end pulling power. There's a bit more luxury, too, as the seats are ergonomically designed Recaro-styled seats that have plenty of back and thigh support. However, those are the most noticeable features externally.
Under the skin, the Beck 904 is where Chuck Beck has really showed his hand, not only increasing the horsepower and torque of the air-cooled six, but using the same type of five-speed transaxle, but with slightly different gearing for more torque coming out of turns and corners. The suspension has also been improved and it is a bit stiffer, which is a function of the strut-type suspension Beck uses. The disc brake rotors are a full two-inches larger than the original and feature, like the original, dual pistons for sure stopping.
A fully built Beck 904, depending on exactly what you want inside, can cost anywhere between $40,000 and $60,000. This might seem a little steep for a replica, but, the Beck 904 is considered the Cadillac of 904 replicas.
Image: conceptcarz.com