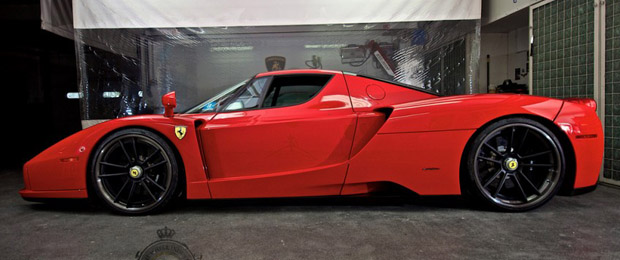 The Ferrari Enzo was a limited edition model built using Ferrari's vaunted F1 racing technology so that 399 lucky people could drive one of the world's fastest street-legal machines.
Styled specially for Ferrari, it was reported at the time by former Pininfarina designer Ken Okuyama, the Enzo made extensive use of carbon fiber panels and was actually built around the firm's racing V-12 powerplant. The powerplant was actually a brand-new design that was layered on top of Maserati's V-8 Quattroporte. It made extensive use of aerodynamic styling to the point that it could easily toast along the highway at 186 mph. At that speed, it was reported the vehicle needed its rear wing to increase down force to keep it on the road.
The Enzo also made use of the electrohydraulic (paddle-shift)  transmission and it is about as close to a racing vehicle as one can get.
Since it was actually priced at $699,000 (suggested retail), it might be seen by some to be a bargain, but, at auction they routinely go for well  over $1 million and that's for a decade-old car.
Ferrari Enzo Replica With BMW V12
Replicas of the Enzo abound and they are also on the expensive size. For example, the site  HYPERLINK "http://www.enzoferraricars.com/"www.enzoferraricars.com boasts that its Enzo kit is built from the ground up by the company and as a result is a better vehicle. Actually, you decide for yourself after you read what they have to say on their site, where we found this quote
"We produce Better than Ferrari Enzo kit cars kit cars ourselves from scratch until all done. The kit cars we deliver to you are completely custom built products. The Ferrari Enzo Beater kit cars body design is made Better than the latest Ferrari Enzo kit cars trends equipped with the latest driving aids. The Ferrari Enzo Beater kit cars are extremely reliable; you can easily operate it without any special knowledge. You can get an impression of our Ferrari Enzo Beater kit cars quality if you visit our gallery. Any cars you may see in the following pages are ready for worldwide shipment. Our Ferrari Enzo Beater kit cars factory is located in Europe with marketing department in Europe and USA. Our exceptionally well trained staff spent several years in race car development and motorsport marketing. We offer integrity, loyalty, credibility in all aspects of our Ferrari Enzo Beater kit cars business."
That's quite a promise, but after looking at photos of their product, we think they can make the claims they boast about. But, it seems to be that way with just about the entire Enzo replica world.
Ferrari Enzo Replica Based on Toyota MR2 (via autoevolution.com)
The reason for this is, we suppose, that the Enzo was actually a one-off model. There's really no base chassis you can find around which you can build up a kit car.. The one exception to this is a kit-car house we have run across several times in this series and they actually do excellent work with donor MR-2 bodies. But, you are starting at $20,000 and if you let them do the work for you (probably your best idea), you'll still lay out the better part of $40,000.
Yes, it is much better to spend $40,000 than over $1 million for an Enzo, but, you're still looking at a kit car, rather than an original. Just make sure the kit house you choose does good work and get references before writing any checks or signing contracts.
Also note that unless you can find a V12 Ferrari powerplant, your lookalike kit will be powered by a four- or a six-cylinder engine so 200-mph performance probably isn't in the cards.
Image: http://ivyleagueeast.com/tag/black/